Smoked roast beef makes the perfect sandwich when combined with French au jus and homemade horseradish sauce.
This tasty recipe for a classic sandwich au jus uses chopped pastrami instead of roast beef and tops it with melted provolone cheese.
This sandwich is a symphony of flavors in your mouth: spicy salami, sweet roasted tomato⁠, earthy brie, and bitter arugula on ciabatta.
When it comes to comfort foods, it's hard to beat an open-faced hot beef sandwich. This one is made from my Cowboy Chuck Roast leftovers.
I've loved Sauerkraut from the first time I ever tried it with some kielbasa many, many years ago. Like most foods I loved as a child, I've tried to improve on them by adding live fire and smoke.
If you own a grill, chances are, you've made a burger on it. Today, I'm going to encourage you to up your burger game with a burger recipe that features poblano chile.
I've made a menu that you and dad will be able to cook, no matter your skill level.
Deeply flavorful, with a bright tart garnish, this lamb slider is perfect for a warm spring day.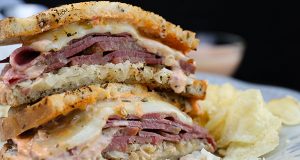 One of the best sandwiches out there, this tangy flavorful sandwich is worth every indulgent bite.