The ham glaze recipe I created for smoked ham runs neck and neck with this amazing grilled prime rib on my list of favorites. Sweet with a hint of heat, this ham glaze recipe is perfect for any ham, especially the spiral cut hams found in the grocery stores.
You'll find these spiral hams in abundance in the weeks leading up to Easter, and what's better is getting them the day after Easter when they are on sale for a steep discount.
They typically come with a pre-made sweet glaze packet of some sort, toss that out. This ham glaze recipe blows those away.
Jump to Recipe
What Is Ham Glaze Made Of?
Ham glaze can be made of a number of different things, depending on the desired flavor profile. For my maple bourbon glazed ham, I use a combination of a few ingredients that are just made for one another; like Kool-aid and sugar.
Ingredients for My Sweet and Spicy Ham Glaze Recipe
Bourbon – Use a high quality bourbon for this. I always advise to use the bourbon you drink when cooking with bourbon. You're not using a ton of it so make it count.

Maple Syrup – Don't skimp on the artificial syrup here. Instead, invest the little extra in some quality natural pure maple syrup.

Brown Sugar – I prefer light brown sugar for this recipe, but if you only have dark brown sugar it's not a huge deal. use what you have on hand.

Apple Jelly – No need to go for the expensive name brand stuff here. The store brand apple jelly works just fine.
Do You Glaze Ham Before or After Cooking?
This is a great question, but the short answer is that you glaze the ham during the cook. If you glaze it too early, or cook at too high of a temperature, your beautiful Christmas ham or Easter ham is going to get super dark, almost black as the sugars in the ham glaze will burn.
So, I recommend applying the glaze to your ham about 30 minutes before the ham is going to come off the grill or out of the oven. This allows for the glaze to get sort of tacky, and shiny creating a beautiful appearance.
Does Ham Need a Glaze?
This is subjective of course, but I've never had a ham that wouldn't have benefitted from a good ham glaze. There's just something special about pairing a slightly spicy but mostly sweet glaze to savory and slightly salty smoked ham.
For this ham glaze recipe, I'm doing what I call a double smoked ham. Double is referencing the fact that these spiral cut hams are already precooked (smoked) when you buy them. They're really marketed as quick and easy baked ham that simply needs to be warmed up in the oven.
While that's fine, it can be better. Heating this ham slowly and adding some additional smoke from your grill really elevates this "okay" ham to a really good ham. Then, adding the maple bourbon ham glaze takes it into the outstanding ham category.
Tips For Making A Ham Glaze Recipe:
The Bourbon: I can't stress enough, start with a good bourbon; one you drink. Cooking with cheap bourbon tastes like cheap bourbon; not good. Since you're not using a ton of it, it's well worth using a quality bourbon. For me, that's Horse Soldier, but use your favorite.

The Consistency: You'll notice as the glaze comes together at a simmer it appears to be pretty thin. This is normal, and it will thicken as it cools.

The Heat: I like a little heat so you'll see I use a hotter barbecue rub in my ham glaze recipe. It's not burn you down hot, it's actually a very mild heat. So, even if you're not a fan of the heat I'd encourage you to try this recipe as is. The slight bit of heat balances the sweetness very well.

The Change Up: I created this to be a ham glaze, but I've also used it on pork tenderloin, thick cut pork chops, and poultry with amazing results. So, keep that in mind — this is a versatile glaze.
Ham Glaze Recipe
Serves: 12-14 | Prep time: 5 mins. | Cook time: 25 minutes
Ingredients
1 10-12 pound spiral cut smoked ham
3 tbsp dijon mustard

For The Rub
1 tbsp garlic powder
1 tbsp onion powder
3 tbsp light brown sugar
3 tbsp turbinado sugar
3 tbsp kosher salt
1 tbsp sweet paprika
1 tbsp coarse ground black pepper
1 tsp chipotle pepper
1 tsp hot paprika
1 tsp cayenne pepper

For the Glaze:
½ cup bourbon
½ cup pure maple syrup
½ cup ketchup
½ cup apple jelly
¼ cup light brown sugar
1 tbsp rub (from above)
How To Make Maple Bourbon Ham Glaze For a Double Smoked Ham
Step 1: Combine all ingredients for the glaze into a medium sized saucepan, and place over medium high heat. Whisk often until the jelly has become a liquid and the sugar has dissolved. Bring the glaze to a low boil and continue whisking for five minutes.
Step 2: Reduce heat to low, and allow the glaze to simmer for 20 minutes. Then, cover and remove from heat. Set aside and allow it to thicken, about 20 minutes. Use the glaze on this ham recipe, or other pork or poultry recipes.
Step 3: If making the double smoked ham; preheat your grill, establishing temperature at 250 °F. Add pecan on cherry wood chunks to the hot coals to establish a clean smoke flow.
Step 4: While the grill is preheating, place all the ingredients for the rub into a shaker bottle, shake to mix. Then, coat the ham with the dijon mustard.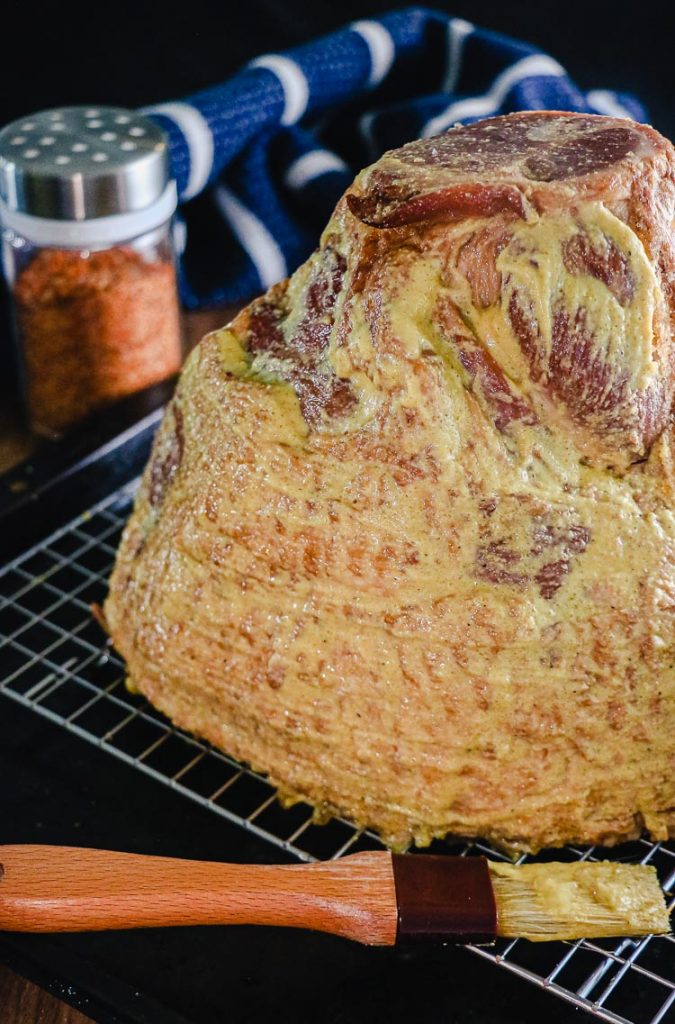 Then, using a shaker bottle, evenly coat the entire surface of the ham with the rub. (You'll only need about three tablespoons of the rub, save the rest of literally anything else, like the glaze it's very versatile.)
Step 5: Place the ham on a cooling rack, and transfer it to the grill over indirect heat. Monitor internal ham temperature and grill temperature with a reliable leave-in thermometer. Allow the ham to smoke for about 2 hours or until the internal temperature reaches 130 °F.
Step 6: Place the cooling rack with ham inside of a raised edge baking sheet. (This is required but keeps things less messy) Then, glaze the ham with the warm maple bourbon glaze, close the grill's lid and continue cooking until the internal temperature reaches 140 °F.
Step 7: Remove the ham from the grill, and drizzle more warm ham glaze on the individual ham slices. I love serving this with these out of this world smoked collard greens which can be done along with the ham.
Ingredients
½

cup

bourbon

½

cup

pure maple syrup

½

cup

ketchup

½

cup

apple jelly

¼

cup

light brown sugar

1

tbsp

hot bbq rub
Instructions
Step 1: Combine all ingredients for the glaze in a medium sized saucepan over medium high heat. Whisk often until the jelly has become a liquid and the sugar has dissolved. Bring the glaze to a low boil and continue whisking for five minutes.

Step 2: Reduce heat to low, allowing glaze to simmer for 20 minutes. Then, cover and remove from heat. Set aside and allow the glaze to thicken, about 20 minutes. Use glaze on ham, or other pork and poultry recipes.
Tried This Recipe?
Share a photo on Instagram with the hashtag #unitedbyflame and let us know how it was!