Restaurant-style salsa that's better than what you get in the restaurant⁠. This quick and easy recipe will be an immediate family favorite.
This Spanish-inspired appetizer recipe is super easy and is literally the first food devoured anytime I have a gathering.
I've made a menu that you and dad will be able to cook, no matter your skill level.
The only thing you need to start grilling is an inexpensive kettle grill and a $5 bag of charcoal. I'll walk you through the essential equipment to start grilling.
That's right, it's the beginning of May and I'm getting ready for a Cinco de Mayo bash.
I've assembled a Final Four bracket that will deliver a winner no matter what you pick.
Want to impress your friends at your next cookout, and not spend a ton of time doing it? This crab stuffed mushroom recipe is a must—and it's so simple and so delicious.
If there's two things that make everything better it's French fries and steak, right?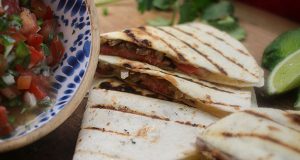 This is an awesome quick and easy dinner or the perfect Game Day appetizer.