Looking for some super easy grilled chicken recipes? You've come to the right place. Here I'm sharing my favorite recipes for boneless skinless chicken, chicken thighs, grilled chicken wings, barbecue chicken and more. Let me know in the comments which ones you tried, I'd love the feedback!
These are all very simple, and can be done any weeknight in 30 minutes to an hour. Whether you have a gas grill or prefer to use a charcoal grill, these easy grilled chicken recipes are packed with flavor and convenience.
Some of the recipes call for letting the chicken marinate or brine for a period of time. So, be sure to do that before work, or the night before making dinner time that much easier.
So, in no particular order of preference, here are some of my favorites:
13 Easy Chicken On The Grill Recipes
This classic grilled chicken recipe is everything you think about when you think about BBQ chicken. It uses a simple rub, some homemade barbecue sauce and a kiss of flame.
Of course, if making your own sauce is more than you want to take on, feel free to use your favorite bottled sauce.
Get The Barbecued Chicken Quarters Recipe Here
Kabobs are not only a fun way to serve grilled chicken, they make flipping small pieces super easy. These grilled chicken kabobs pack a ton of flavor on their own.
Add in the perfect pairing of charred peppers, onions and chimichurri sauce for a next level chicken experience.
Get The Chimichurri Chicken Kabobs Recipe Here
Don't assume that because these chicken drumsticks are smoked that they take a long time, or that you can't make them on a gas grill. Combining the sweetness of honey with some savory seasoning, you'll have these on a plate in under an hour and be glad you did.
Juicy, smokey, and packed with flavor, these are always a crowd favorite.
Get the Smoked Honey Glazed Chicken Drumsticks Recipe Here
If you're tired of grilled chicken breast that has the flavor and moisture content of cardboard, please try these. An honest to goodness juicy grilled chicken breast that's full of flavor—it's like a unicorn.
I always suggest making extra so you can make any leftovers into the best chicken salad you've ever eaten. If you want to know how to make a flavorful and juicy chicken breast, this chicken recipe is for you.
Get The Grilled Chicken Breast Recipe Here
Combining the slightly oaky, slightly smokey bourbon flavor with the deep flavor of gourmet hot sauce, these wings are a winner winner chicken dinner. (I couldn't make a chicken roundup blog without using that reference, right?)

Wings don't have to be reserved only for game day. These are perfect for any night of the week, and of course a little sip of bourbon while you're making your wings never hurt.
Get The Bourbon Buffalo Wings Recipe Here
Given the sheer number of chicken recipes I have on my blog, it's obvious I like me some chicken. My attraction to chicken started many years ago when it was the cheapest meat in the commissary on base, so I learned early on how to make something out of nothing.

Having said that, I'd say that my favorite (just personal opinion here) is this Caribbean jerk chicken. The brown sugar, the all spice, the green onions…the flavors just jump off the plate at you. If you're going to try only one of my chicken recipes, I hope this is it.
Get The Authentic Caribbean Jerk Chicken Recipe Here
Amp up the flavor of traditional fried chicken with a little smoke on the grill. This chicken is crispy, like grandma made it and highlights the savory flavors of traditional fried chicken, but with an added element of smoke. Great for a weeknight or for a Sunday dinner.
Get The Smoke Fried Chicken Recipe Here
Roasted chicken doesn't have to come from Costco. Trust me when I say these grill roasted chicken halves are infinitely better than the rotisserie chicken in the warming rack from the local grocery store.

Using your grill to roast chicken is easy and doesn't heat the whole house. No oven to clean, and some amazingly delicious, juicy chicken for dinner.
Get The Grilled Chicken Halves Recipe Here
Of all the cuts of chicken, if I was only able to have one it would be thighs. They have a higher fat content than some of the other parts of the chicken making them naturally more flavorful.

Combine that natural goodness with some smoke and some optional BBQ sauce and you have a meal fit for royalty.
Get The Recipe For Smoked Chicken Thighs Here
When you think about different types of sliders, chicken enchiladas sliders probably don't top the list. Here's why they should be considered….they're bomb! You can of course make chicken specifically for these sliders, but I find them as a great way to use leftover chicken.

So, if you have some leftover chicken from any of the other recipes in this round up, sliders are a great way to refresh and use those up.
Get The Chicken Enchilada Sliders Recipe Here
Likely the most unusual of the chicken recipes in this group, but certainly shouldn't be left off the roster. This chicken is intense with flavor and combines a traditional Hungarian flare with just a hint of smoke.

I struggle to use words to describe the layers of flavor here. If I had to I would say depth, rich, slightly spicy – no spicy is the right word, but it does have some spice to it. And of course a hint of smoke. If you haven't heard of this dish, you really need to try it.
Get The Pan Seared & Smoked Chicken Paprikash Recipe Here
It's hard to beat a spatchcock chicken; so simple to make and they cook so evenly. I'm partial to the rosemary seasoning I use for this but you can really use any seasoning you like, or simple salt and pepper.
If you've heard of spatchcock chicken but have been reluctant to try, never fear. I have included a short video in this recipe to show you exactly how to spatchcock the chicken before putting it on the grill.
Get The Rosemary Chicken Recipe Here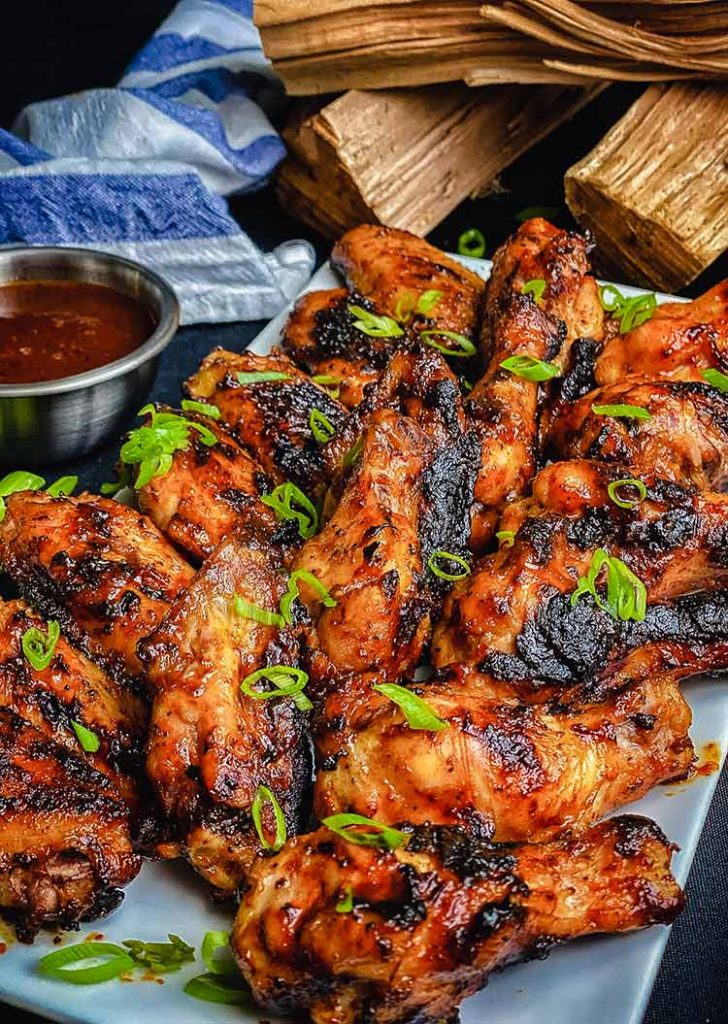 It occurred to me some time back that Memphis-style chicken wings are something I've never seen on a menu. That's a shame, truly.

These Memphis-style chicken wings are a spin on the Memphis-style ribs I do, so the recipe and technique are similar, but with some slight changes to make the perfect, crispy grilled Memphis-style chicken wings.
Get The Memphis Style Chicken Wings Recipe Here