Father's Day is a time to celebrate all the things dad has done for you throughout the year. And while you may love dad, sometimes picking out the right Father's Day gifts can be a pain. Stores are full of mugs, ties, and golf clubs—but what if your dad doesn't fit that mold?
If you've got a grill enthusiast dad, I've got a great list of Father's Day gift suggestions—including my book, which offers even more great recipes and ideas. But I'm going to give you a Father's Day idea that is always my favorite thing to receive: time with my family.
So this Father's Day, I'm outlining some menu suggestions for Dear Old Dad. Break out the BBQ grill and invite him over to help you cook. I've made a menu that you and dad will be able to prepare, no matter your skill level. From easy appetizers to my favorite ribs recipe, there's plenty for you to cook up.
You'll talk, you'll bond, you'll join the United By Flame community. I promise that cooking time with your dad around a charcoal grill (or a gas grill) will become quality time you'll both cherish.
And yes, it's his special day, so let him correct your grilling technique. That's a dad rule.
Best Appetizers
Some appetizers bring everyone to the table—Cheddar and Jalapeño Cornbread is one of them. This is a great Father's Day recipe for dad to make with younger kids, who can help him mix the ingredients together while he sautés the jalapeños. Set up your grill for two-zone heating, and maybe take the time to talk about the benefits of this technique with your dad if he's been known to serve up hockey puck burgers. Pour this easy appetizer into a cast iron pan, set it on the grill, and you've got a delicious dish in 25 mins.
This is also an excellent side dish that could be served with any of the sandwich or dinner recipes listed below. For breezy cleanup, serve this dish on a paper towel while still warm.
Get the Cheddar and Jalapeño Cornbread recipe.
Another easy appetizer that kids can help create—tangy deviled eggs are a guaranteed hit. With a cook time under 10 minutes and a filling featuring one of my favorite BBQ sauces, make sure you prepare more of these than you think you'll need—they'll be devoured in minutes. These savory deviled eggs are a perfect finger food. Keep some handy on a paper towel and munch on them while you and dad prepare dinner.
Get the Buffalo Blue Cheese Deviled Eggs recipe.
The Best Sandwich Recipes
If your dad is anything like me, he's a fan of a big sandwich. This pork tenderloin sandwich is juicy, sharp, and flavorful. There's a reason it's the Ultimate Grilled Cuban Sandwich: the crunch of the pickle and the tender meat make this dish a favorite at every cookout. Have your father set up a gas or charcoal grill to cook the pork and get ready for a sandwich experience you'll never forget.
If you're planning on having a few dads over for a cookout, consider cutting up these massive sandwiches into small pieces and putting them on a skewer—now, you've got quick, easy appetizers to give out to hungry guests.
Get the Ultimate Grilled Cuban Sandwich recipe.
One of my favorite big sandwiches, the BBQ Platter Sandwich is highly customizable and totally delicious. Load it high with mac 'n' cheese, apple and jalapeño coleslaw, pickles, and/or your favorite BBQ sauce—the sky's the limit!
Make a toppings bar, hand dad a paper plate and a beer, and let him go to town. There's nothing more fun than customizing your own giant sandwich. Fair warning, this sandwich gets messy fast, so be sure you have a paper towel or two handy.
Get the BBQ Platter Sandwich recipe.
Best Father's Day Dinners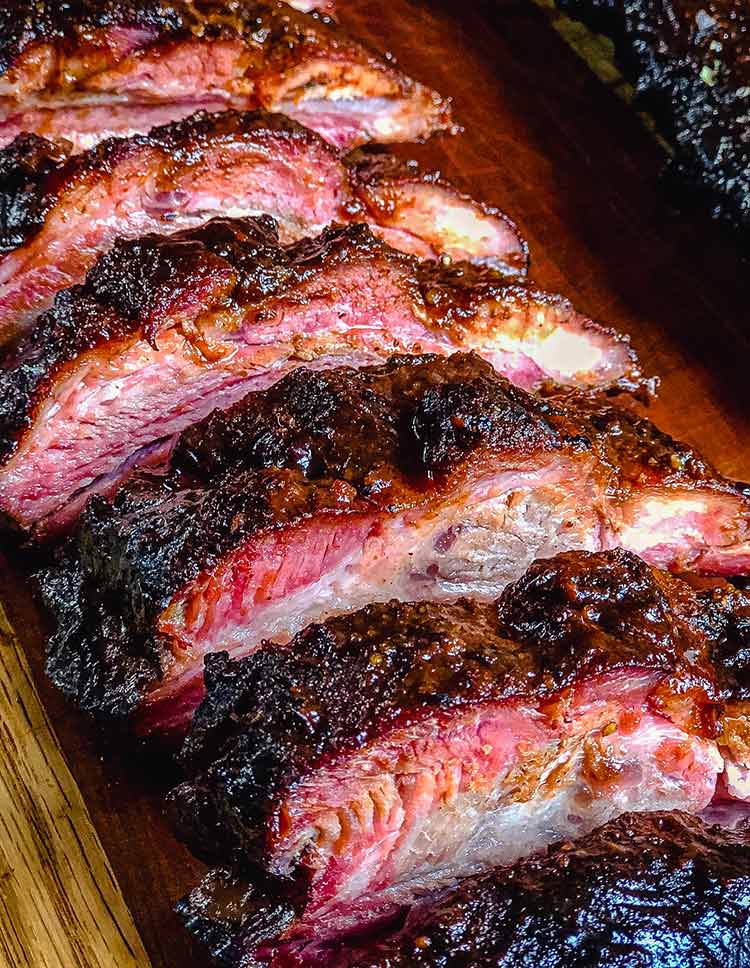 We've talked in the past about the important differences between St. Louis-style and baby back ribs. Today, I'm going to give you what I consider to be the ultimate ribs recipe. The key to the amazing flavor and tender taste of the baby back ribs is the brine.
Be sure to start this recipe the day before so your ribs get the full benefit of this game changing apple cider soak. Trust me, it's worth it.
Baby back ribs are one of the classic BBQ grill recipes and one you and your dad will definitely bond over. This dinner pairs beautifully with my Mexican grilled corn, so consider adding that to the menu.
Get the Apple Cinnamon Brined Baby Back Ribs recipe.
If you're looking for a quick dinner idea with a big flavor impact, this is a safe bet. My grilled pork chops are juicy and tender—nothing like those overcooked pork chops you may remember from childhood.
In my recipe, the brown sugar-coated grilled apples and a sweet and tangy glaze with just a touch of heat. The whole dish takes about 30 minutes to prepare and will leave your father impressed. If he asks you where you got the pork chops recipe, send him this way!
Get the Grilled Pork Chops with Grilled Cinnamon Apples recipe.
Now that you've got the menu, it's time to get cooking. Remember to take pictures of you and your dad over the grill, then post and tag @grillseeker on Instagram so I can add you to the United By Flame community!